Maarten Van Severen archive
---
Maarten Van Severen was a Belgian furniture designer and interior architect. He is considered one of the few Belgian designers who managed to penetrate the international design top.
 
Maarten Van Severen is without doubt the most important Belgian designer of the last two decades. His furniture designs with their typical clear line are known all over the world.
 
In the late 1980s he started making furniture in his own studio in Ghent. The designs are simple, clear and well thought-out. They reflect his search for perfection in design, detail and realization. He prefers to call himself a maximalist - someone who tirelessly devotes all his energy, knowledge and resources to achieve the desired end result, even if it ultimately appears minimalist.
 
His aspiration was that a piece of furniture should look "as if it had always been there. 
Van Severen died at the age of 48.
FIRST GENERATION MAARTEN VAN SEVEREN "CHAIR.02"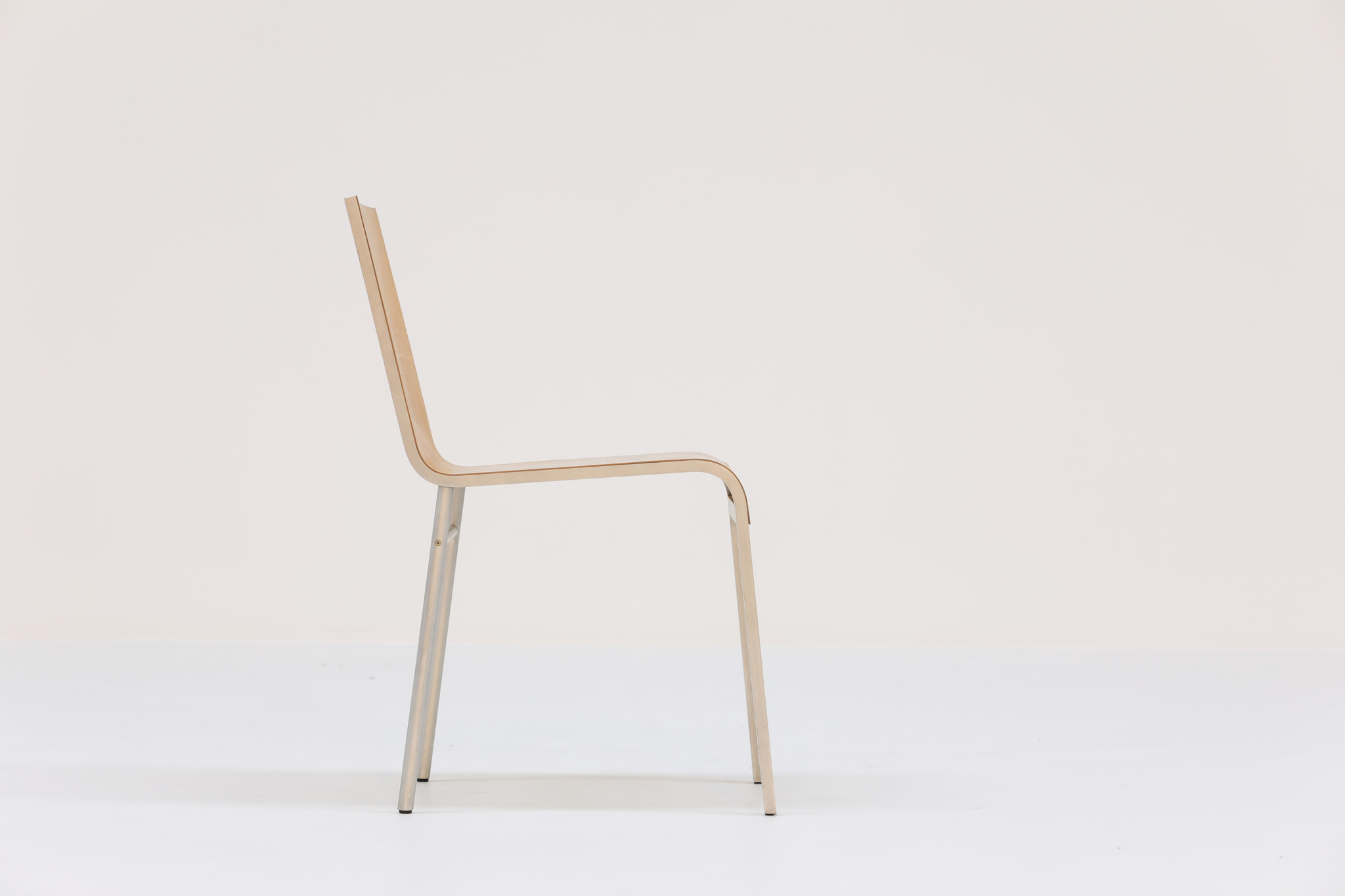 This chair no .02 was designed by Maarten Van Severen in 1992. It is a 1st production, manufactured by himself in his own workshop in Ghent. The finish is done by hand to give the chair an artisanal character.
The frame is made of aluminum and the back and seat of beech plywood. This chair is an important collector's item and should not be missing from your MVS collection. In the beginning, Van Severen produced the Chair in small editions in his studio. It was not until 1999 that production took on an industrial character. The Chair N°2 was produced by Aiki, both in aluminum and beech.
PROTOTYPE MAARTEN VAN SEVEREN LOUNGE CHAIR BY PASTOE, 2004
He wanted a sleek simplistic chair with the comfort of a lounge armchair. The unique thing about the chair is not only the design with one armrest that serves as a side table, but also the natural arched leather on the elegant metal frame. This provides unbelievable seating comfort.
This is not just a Lounge chair by Maarten Van Severen, but a prototype that was produced as a test specimen, to find out how much leather was needed and how they were going to make the cross stitches by hand. The leather has one of the most beautiful natural patinas we have ever seen.

Only one copy of this test chair was made by Pastoe. After that, the real production by Pastoe followed, only 130 copies were produced.

This lounge chair is one of the rarest pieces of furniture by Maarten Van Severen and is highly sought after by top architects, interior designers and collectors worldwide.
The chance of ever seeing one is small, the chance of buying one even smaller.
MAARTEN VAN SEVEREN K7V90 BOOKCASE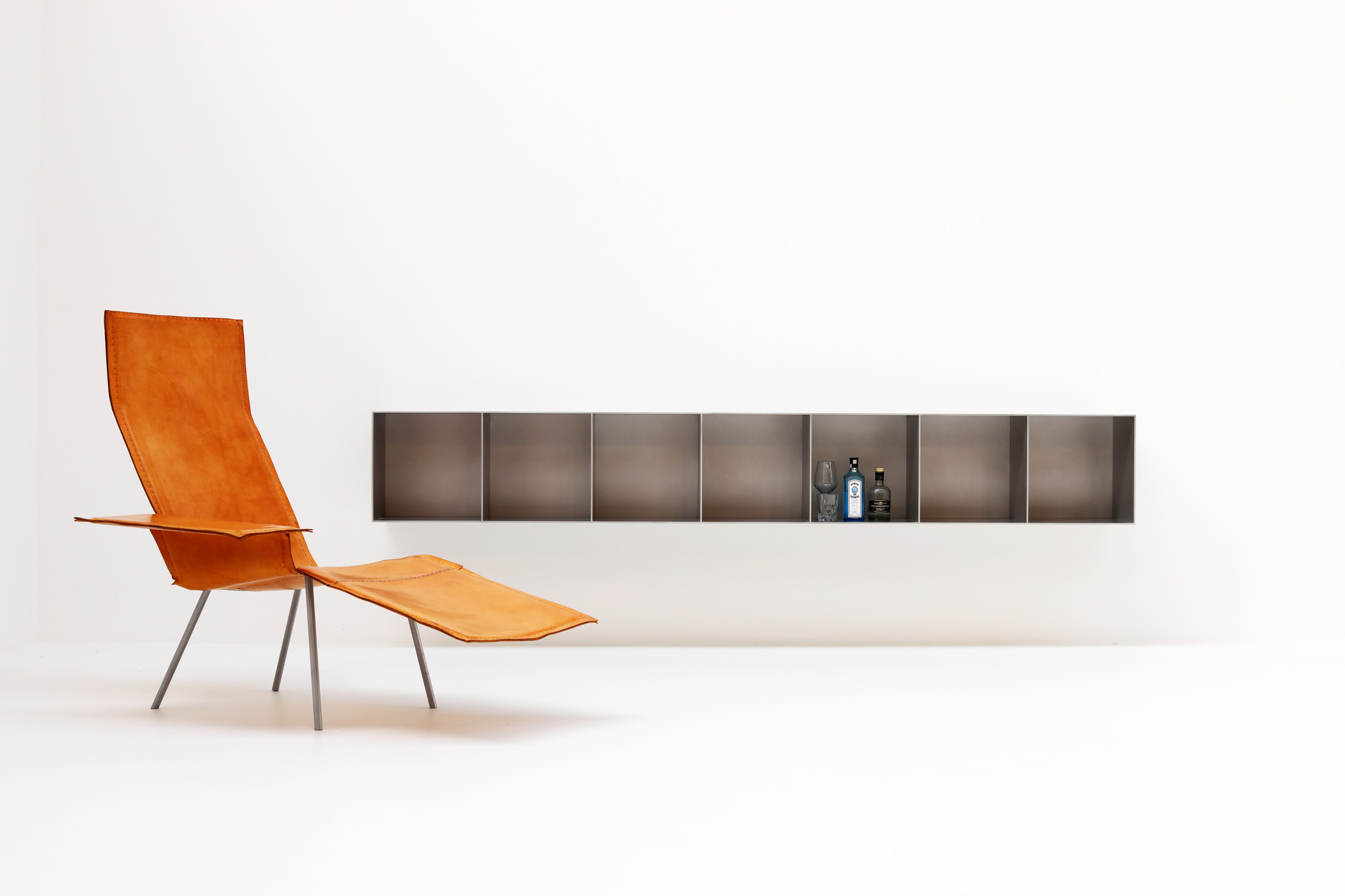 Maarten Van Severen designed one of the most beautiful hanging sideboards/bookcase on earth. The K7V90 bookcase is one of Maarten van Severen's classics.
The minimalist design with the seven shelves took place in 1990.
This storage system is sanded by hand for 160 hours at a time by the same person, so that there are no irregularities in the strokes. (This corresponds to 4 weeks of sanding)
The fundamental aspect of his work is devoted to the examination of basic furniture: chair, table, chaise longue, shelves and a cupboard. Van Severen developed primary solutions for these categories based on extensive research into the questions of form, material and construction.
This concerns a Lensvelt production, the furniture is also no longer in production for the time being. It comes with a wall mounting system.
TABLE "T88W" MANUFACTURED BY MAARTEN VAN SEVEREN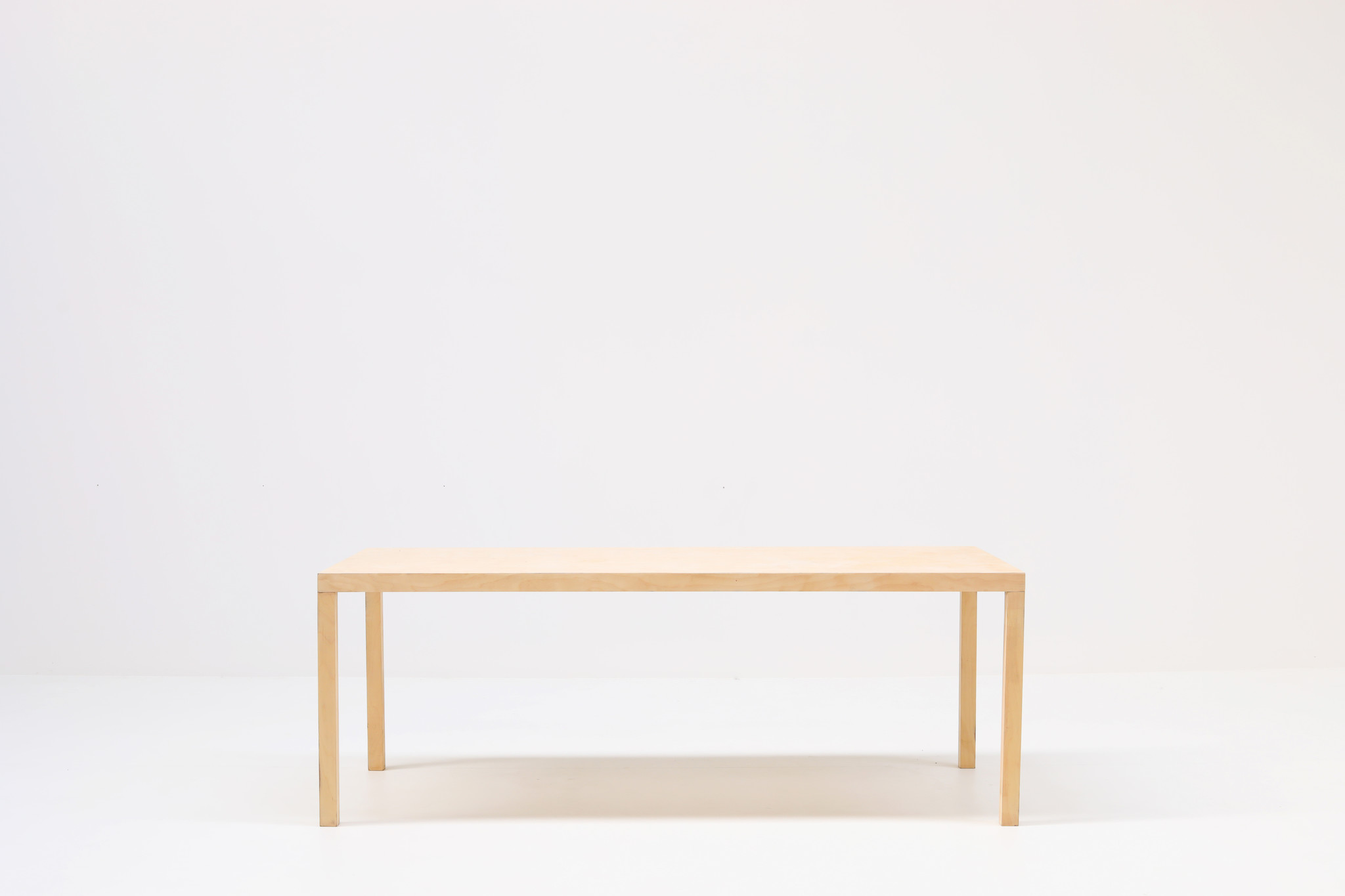 Minimalism versus maximalism.
Anyone who loves the essence of design will love Maarten Van Severen's designs: masterful combinations of pure beauty & sleek efficiency.
The wooden table T88W is an example of this, here the shape of a table has been reduced to a minimum.
Maarten Van Severen designed the table to be used. The table is a place to meet friends, eat with your family, work on, create...
This table is in authentic condition and has always been preserved by a private collector. This table is a preliminary study and prototype made by Maarten in his own workshop in Ghent.
This early generation is made of birch wood.
Every piece of work by Van Severen was made, assembled and finished by hand in his studio from the start of the creative process in the early 1980s. A time consuming activity. The solution came in 1999 when production of the entire collection was transferred to TM in Proven, a sister company of Top Mouton, now called Aiki. This production has also stopped.
His designs are simple, clear and thoughtful. They reflect his quest for perfection in form, detail and execution.